The only Exact Platinum Partner and
Microsoft Gold Partner in the Benelux
Advisie supports organizations, particularly in the supply chain (wholesale and manufacturing), education, services, healthcare, and automotive sectors, by providing guidance on the automation of (financial) processes and operating in the (Azure) Business Cloud. In addition to offering advice and the implementation of business software, Advisie features a dedicated development department and its own support desk. The development team creates software, Advisie Products, seamlessly integrated with Exact and Microsoft solutions.
Qexpertise has become a part of Advisie after the acquisition in June 2023, which in turn is under the umbrella of the de ESC group.
Our misson and vision
The world of IT and software is in constant evolution. Our aim is to transform these innovations into intelligent IT solutions for businesses throughout the Netherlands. Our goal: to establish a future-proof IT foundation for all!
With a deep understanding of the market, we serve as the connector and orchestrator of intelligent IT solutions, efficient processes, and knowledgeable personnel for entrepreneurs and organizations operating in the supply chain, healthcare, education, services, and automotive sectors.
Advisie Business Solutions
Exact Platinum Partner
Advisie stands as the sole Exact Platinum Partner in the Netherlands. This certification ensures that you engage with a knowledgeable partner. Furthermore, Advisie holds certified partnerships with renowned suppliers such as Sumatra Software, Scan Sys, Orbis Software, Elvy, Transsmart, Trancon, and Optimizers. The Custom Solutions department also develops tailor-made solutions adhering to Exact's rigorous standards. The 'Certified Exact Add-on' label assures that design, testing, and development of custom solutions are certified by Exact.
Advisie IT Solutions
Microsoft Gold Partner
With over 30 years as a Microsoft Gold Partner, Advisie IT Solutions (formerly ComputerPlan) has attained multiple competencies. This achievement guarantees expertise in advising, implementing, and providing in-house support for Microsoft 365, Business Cloud, Power BI, and all Microsoft hardware products. Microsoft's products focus on productivity enhancement, seamless integration, security, and user-friendliness.
Advisie Automotive Solutions
Gold Partner - DAF Trucks
Formerly known as Relead, Advisie Automotive Solutions is the premier ERP software provider for truck dealers. Offering the Dealer Management System (DMS) named TruckVision, Advisie not only delivers an advanced system but also a comprehensive integrated service package. With an exclusive dedication to the truck industry, Advisie Automotive Solutions holds the prestigious Gold Partner status with DAF Trucks.
About ESC
ESC empowers organizations with tailored ICT solutions, enabling them to achieve their goals through the added value of these comprehensive solutions. They achieve this by managing and optimizing ICT business processes. The ESC team provides solutions that enhance business performance and ensure secure operations, fostering long-term partnerships through a flexible team of certified technicians.
In 2022, investment company Capital A, active in Belgium and the Netherlands, acquires a majority stake in ESC. The ESC Holding, which includes Advisie, also comprises Net IT, Dynavision (50%), and ESC Belgium. Learn more about ESC's history on the ESC website.
Advisie Service Desk
Advisie operates its own support department, the Advisie Service Desk. This is advantageous as our specialists understand your organization and situation like no other. This ensures prompt and skilled assistance. Support staff, consultants, and project managers collaborate closely to guarantee service and quality. Visit the Service Solutions page for information on our diverse service packages regarding Advisie Business Solutions. Advisie IT Solutions' services are centered around (preventive) maintenance and security to mitigate disruptions to the IT environment.
The Service Desk is available during working hours from Monday to Friday, 8:00 AM to 6:00 PM.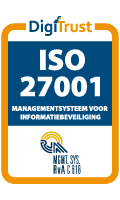 Advisie is ISO 27001 certified.
Since 2022, Advisie has been certified for Information Security ISO 27001/ISMS. The Information Security Management System (ISMS) is designed to ensure adequate and proportionate security measures (that protect information and instill confidence in our clients). It serves as a standard for information security. This encompasses measures such as the implementation of cryptography, secure procedures for accessing (client) information systems, and periodic PEN tests on our information systems.
Contact
Are you looking for a partner that supports you and your customers by optimizing your business processes? We'd love to hear from you.