Exact Release
Update nieuws
Exact Synergy product update 502
Vanaf product update 502 is Exact Synergy Enterprise (ESE) niet langer compatibel met Exact Globe Next. Dit houdt in dat als je deze update installeert, een overstap van Exact Globe naar Exact Globe+ vereist is. Wij adviseren om contact op te nemen met Advisie om begeleid te worden bij het installeren van 502 Exact Synergy en 502 Exact Globe+.
De update installeren
Om incompatibele omgevingen te voorkomen, krijg je onderstaande waarschuwing in het ESE productupdate-programma wanneer je versie 502 (of hoger) selecteert.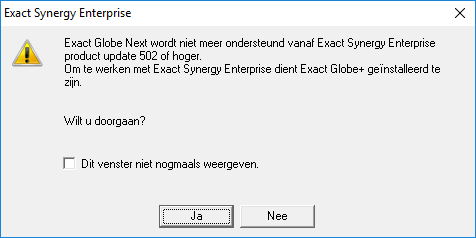 Nadat je de update hebt geïnstalleerd, word je gevraagd om de productupdater voor Exact Globe+ en Exact Lightweight Integration Server (ELIS) uit te voeren. Als je één of beide producten gebruikt, moeten beide toepassingen bijgewerkt worden om ervoor te zorgen dat de toepassingen goed werken met ESE. Na de installatie van Exact Synergy product update 502 krijg je de volgende melding: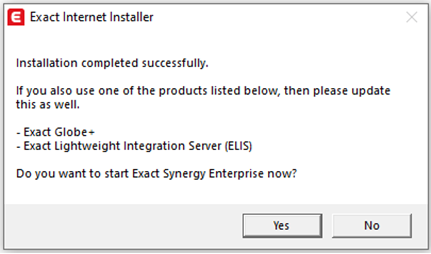 Nadat je de update hebt uitgevoerd dien je de upgrade naar Exact Globe+ te doen om Exact Synergy te kunnen gebruiken.
Verdere vragen?
Hulp nodig bij het uitvoeren van deze update of verdere vragen hierover? Neem dan contact op met onze afdeling Servicedesk het klantportaal.
Schrijf je in voor onze nieuwsbrief en ontvang elk kwartaal het laatste nieuws, Exact updates en relevante inspiratie in je inbox.